Completion of the VT-MIT degree consists of taking 11 courses total (33 credit-hours). You must take a minimum of four foundation courses (below in blue), however you can take all six. You will then choose from elective courses (below in orange), to complete 11 courses in total. The VT-MIT program offers 8 concentration areas (modules), as shown below. Courses may be taken in any order if there isn't a prerequisite. You will see there is great flexibility, and it is possible to complete up to three modules. Course Descriptions. Contact Us with questions.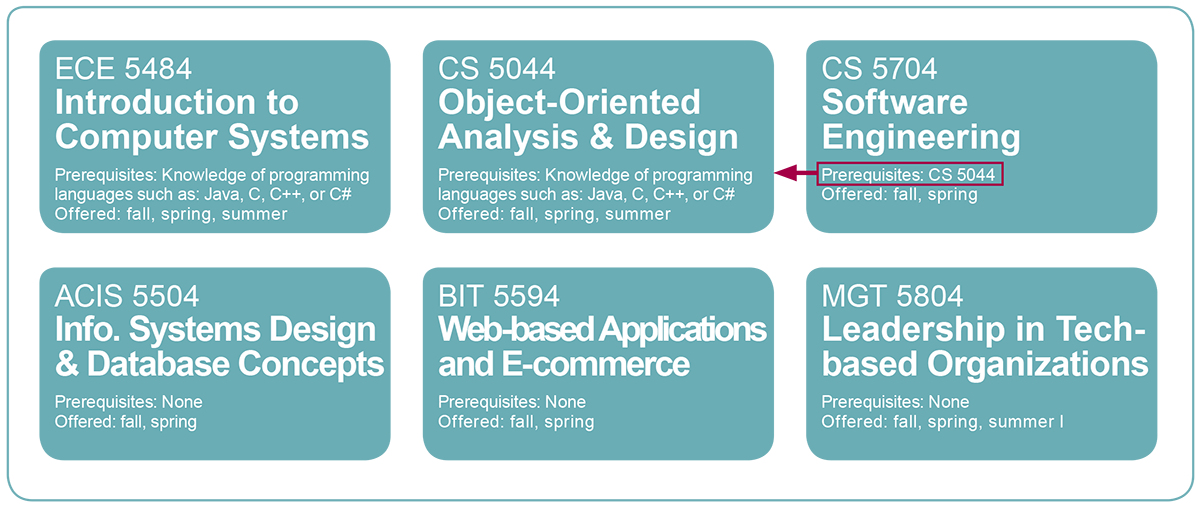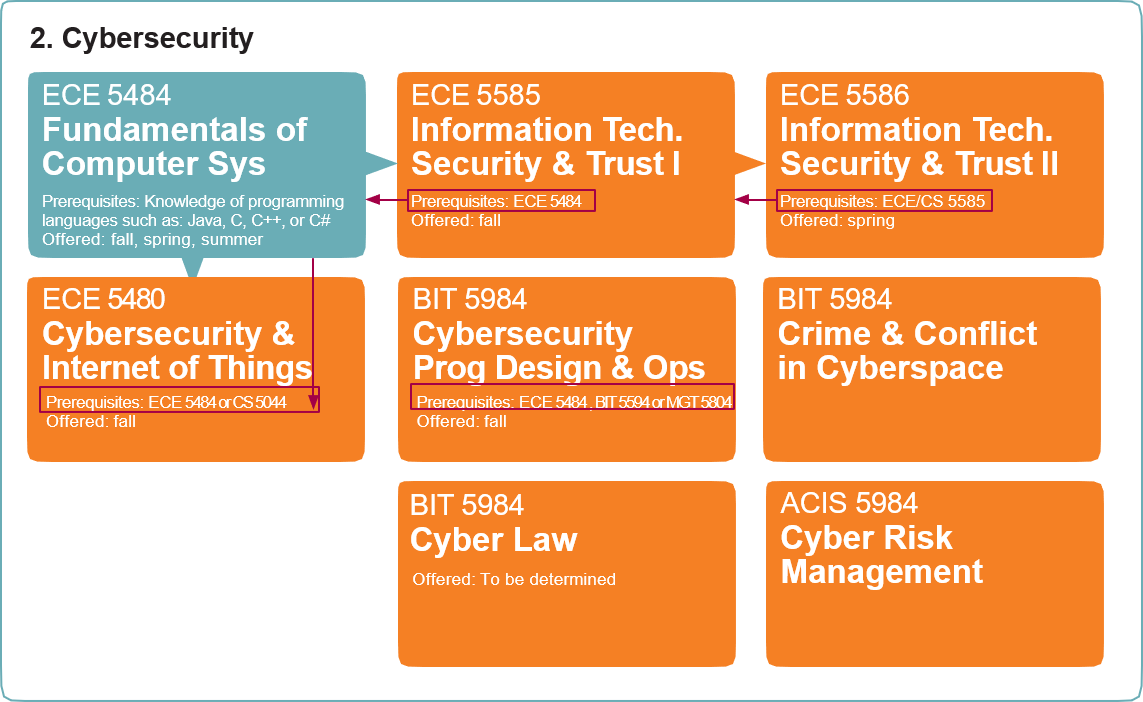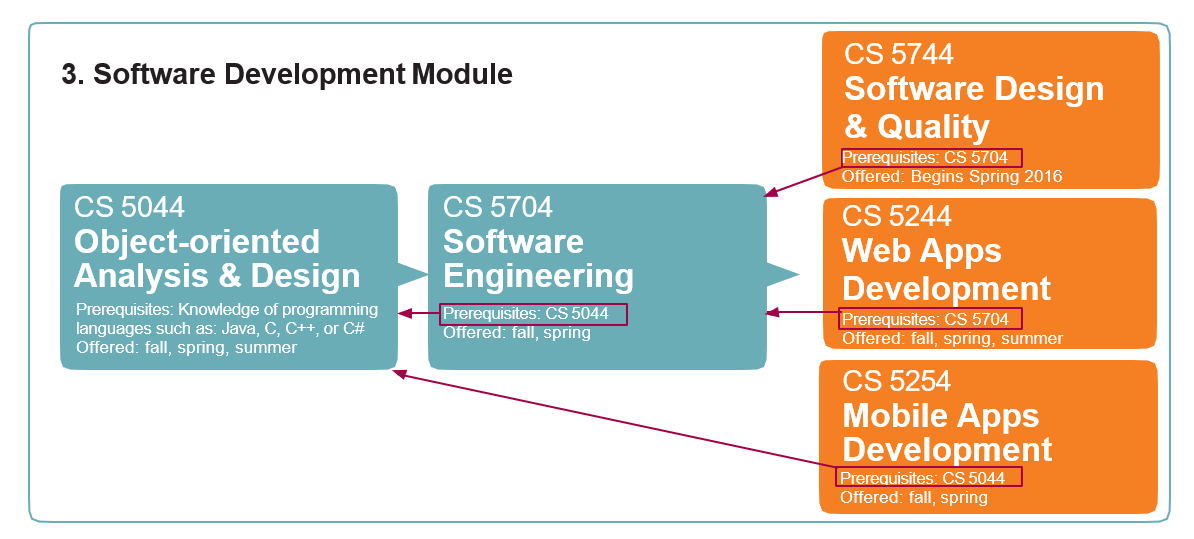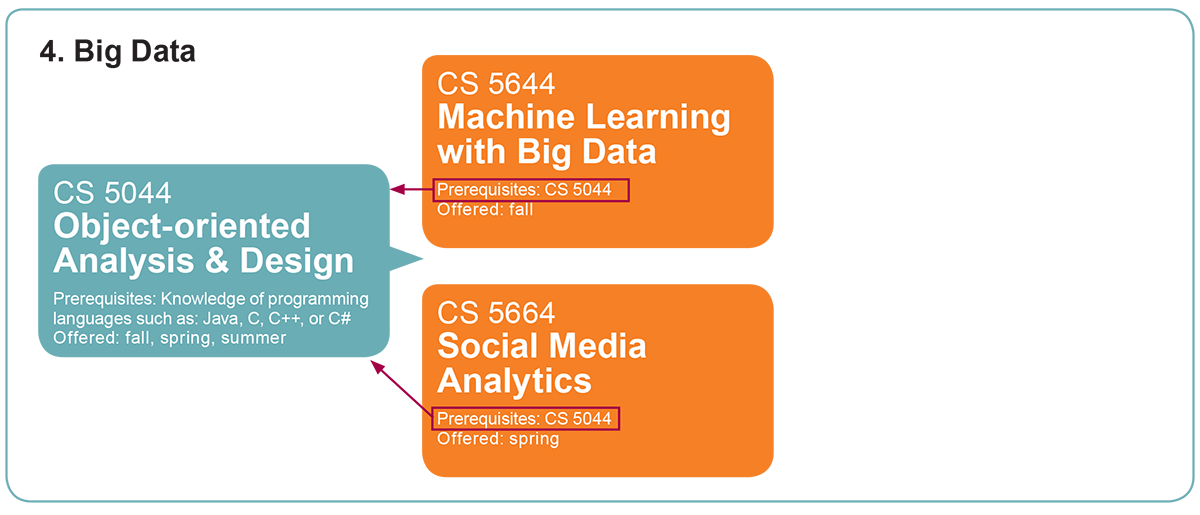 Suggested Plan of Study
Students entering in the Fall Term who wish to complete their degree in two years can take two courses per semester (including the first summer) and follow this sequence:
 
1st Fall
1st Spring
1st Summer
2nd Fall
2nd Spring
2nd Summer
1
BIT 5594: Web-Based Applications and Electronic Commerce
MGT 5804: Leadership in Tech-Based Organizations
BIT 5564: Health Information Technology
BIT 5524: Business Analytics  & Intelligence I
BIT 5534: Applied Business Analytics & Intelligence II
CS 5044: Object Oriented Programming 

with Java

2
ACIS 5504: Sys/Database Concepts
ACIS 5524: Advanced Data Management Systems
ACIS 5574: Healthcare Data Management
BIT 5474:  Computer Based Decision Support Systems
BIT 5484 Cognitive Computing for Smart Service Systems
 
Students wishing to complete the requirements over 2 ½ years can complete the following sequence, which allows for a short summer break during the Summer II session (year one) and Summer I session (year two).
|   | 1st Fall  | 1st Spring | 1st Summer | 2nd Fall | 2nd Spring | 2nd Summer | 2nd Fall |
| --- | --- | --- | --- | --- | --- | --- | --- |
| 1 | BIT 5594: Web-Based Applications and Electronic Commerce | MGT 5804: Leadership in Tech-Based Organizations | BIT 5564: Health Information Technology | BIT 5524: Business Analytics  & Intelligence I | BIT 5534: Applied Business Analytics & Intelligence II | ACIS 5574: Healthcare Data Management | CS 5044: Object Oriented Programming with Java |
| 2 | ACIS 5504: Sys/Database Concepts | ACIS 5524: Advanced Data Management Systems |   | BIT 5474: Computer Based Decision Support Systems | BIT 5484 Cognitive Computing for Smart Service Systems |   |   |
Sequence of coursework for students entering in Spring Term, and following the two-year cycle:
|   | 1st Spring | 1st Summer | 1st Fall | 2nd Spring | 2nd Summer | 2nd Fall |
| --- | --- | --- | --- | --- | --- | --- |
| 1 | BIT 5594: Web-Based Applications and Electronic Commerce | BIT 5564: Health Information Technology | BIT 5524: Business Analytics  & Intelligence I | BIT 5534: Applied Business Analytics & Intelligence II | MGT 5804: Leadership in Tech-Based Organizations | CS 5044: Object Oriented Programming with Java |
| 2 | ACIS 5504: Sys/Database Concepts | ACIS 5574: Healthcare Data Management | BIT 5474: Computer Based Decision Support Systems | ACIS 5524: Advanced Data Management Systems |   | BIT 5484 Cognitive Computing for Smart Service Systems |
Sequence of coursework for students entering in Spring Term, and following the 2 ½ year cycle:
 
1st Spring
1st Summer
1st Fall
2nd Spring
2nd Summer
2nd Fall
2nd Spring
1
BIT 5594: Web-Based Applications and Electronic Commerce
BIT 5564: Health Information Technology
BIT 5524: Business Analytics  & Intelligence I
BIT 5534: Applied Business Analytics & Intelligence II
ACIS 5574: Healthcare Data Management
MGT 5804: Leadership in Tech-Based Organizations
BIT 5484 Cognitive Computing for Smart Service Systems
2
ACIS 5504: Sys/Database Concepts
 
BIT 5474: Computer Based Decision Support Systems
ACIS 5524: Advanced Data Management Systems
 
CS 5044: Object Oriented Programming with Java